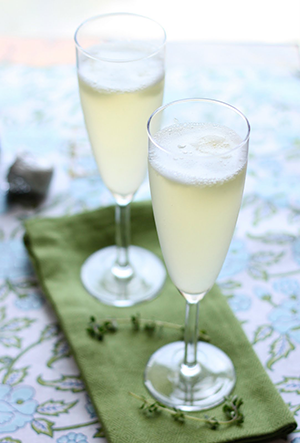 LIQUID GOLD'S LEMON SHERBET FIZZ
Published:
This mouth-watering, lip-smacking lemon sherbet fizz is made with a teaspoon of lemon sorbet, lime cordial and chilled prosecco.

4.4 stars based on 40 reviews
Prep time:
Total time:
Yield: 1 100ml glass (1 serving)

Serving size: 1 tall glass
Calories per serving: 95 cal

Ingredients:
Lemon sorbet: 1 teaspoon
Lime cordial: 2-3 drops
Chilled prosecco: 100ml
...

Directions:

1. Pop one heaped teaspoon of lemon sorbet into the bottom of a tall flute and dash a few drops of lime cordial over it.
2. Top up with cold prosecco, stir quickly but gently, garnish with a slim quarter of a lemon slice and serve.